Picking furniture for your house is one of the best parts of renovating or building a home. However, there are a lot of furniture decisions to make, and sometimes some of the best choices aren't always obvious. A good example of this is glass tabletops. Any furniture made with or of glass can seem like a pretty scary thing to invest in, but there are some benefits of choosing to use glass furniture in your home– more specifically, glass tabletops. Of course glass does come with some drawbacks, but it is important to acknowledge the advantages. Here are some of the pros and cons of glass tabletops.
The Pros of Glass Tabletops:
Glass tabletops are not an obvious choice, so if you use one in your dining room, for example, it will stand out and grab people's attention. It automatically becomes a focal point.
They help brighten a room by reflecting natural light.
Glass tabletops are very easy to clean and don't absorb spills.
There are many styles of glass tabletops to choose from.
The Cons of Glass Tabletops:
Glass tabletops require constant cleaning. Spills and stray food are more obvious on glass than any other material.
They aren't very durable and are quite fragile.
Glass tabletops can be a safety hazard if you have children or pets.
Glass furniture can be pretty expensive, especially if you need a sturdier glass for a tabletop.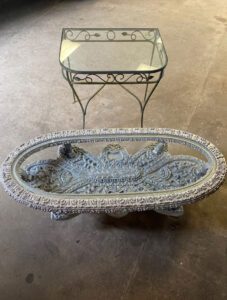 As you can see, there are some great advantages using glass tabletops and some possibly concerning disadvantages. It is best to know if your lifestyle at home is suited for a glass tabletop before investing in one. If you are confident a glass tabletop is what you need in your home, call us today at Inabinet Glass & Mirror Co Inc., and we will help you find the perfect glass tabletop for your space.
(Getty Images)