Residential glass installation and replacement
A Reflection of Great Quality
Creating Custom Mirrors That Are Both Functional And Beautiful
Some people look into a mirror and see only their reflection. Others are just as observant about what the mirror itself looks like. Of course, you could definitely be interested in both the style of your mirrors and how well they perform. If you have been looking around and still haven't found the mirrors that you want for your home or business, turn to us at Inabinet Glass & Mirror Co Inc. With more than 50 years of serving the glass needs of the Columbia, South Carolina area, we have become quite adept at creating custom mirrors that are both functional and beautiful.
There are many uses for mirrors that go beyond bathroom mirrors, although those are rather important, too. With our ability to create custom mirrors, we can do anything from small, decorative mirrors to those that fill a wall to make a room appear larger than it is. Other options include full-length mirrors for checking your outfit each morning or for dressing rooms at retail clothing outlets. We can also make sliding glass doors using mirrors, which is a great idea for closets or cabinets.
As a custom mirror fabricator, we can create pretty much anything that interests you for your home or business. You are limited only by your imagination. If you have a project in mind that mirrors would make a great addition to, don't hesitate to contact us to get a quote. We look forward to serving all your residential and commercial glass and mirror project needs.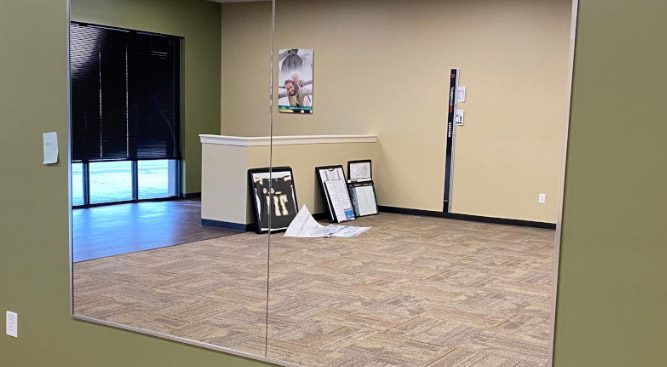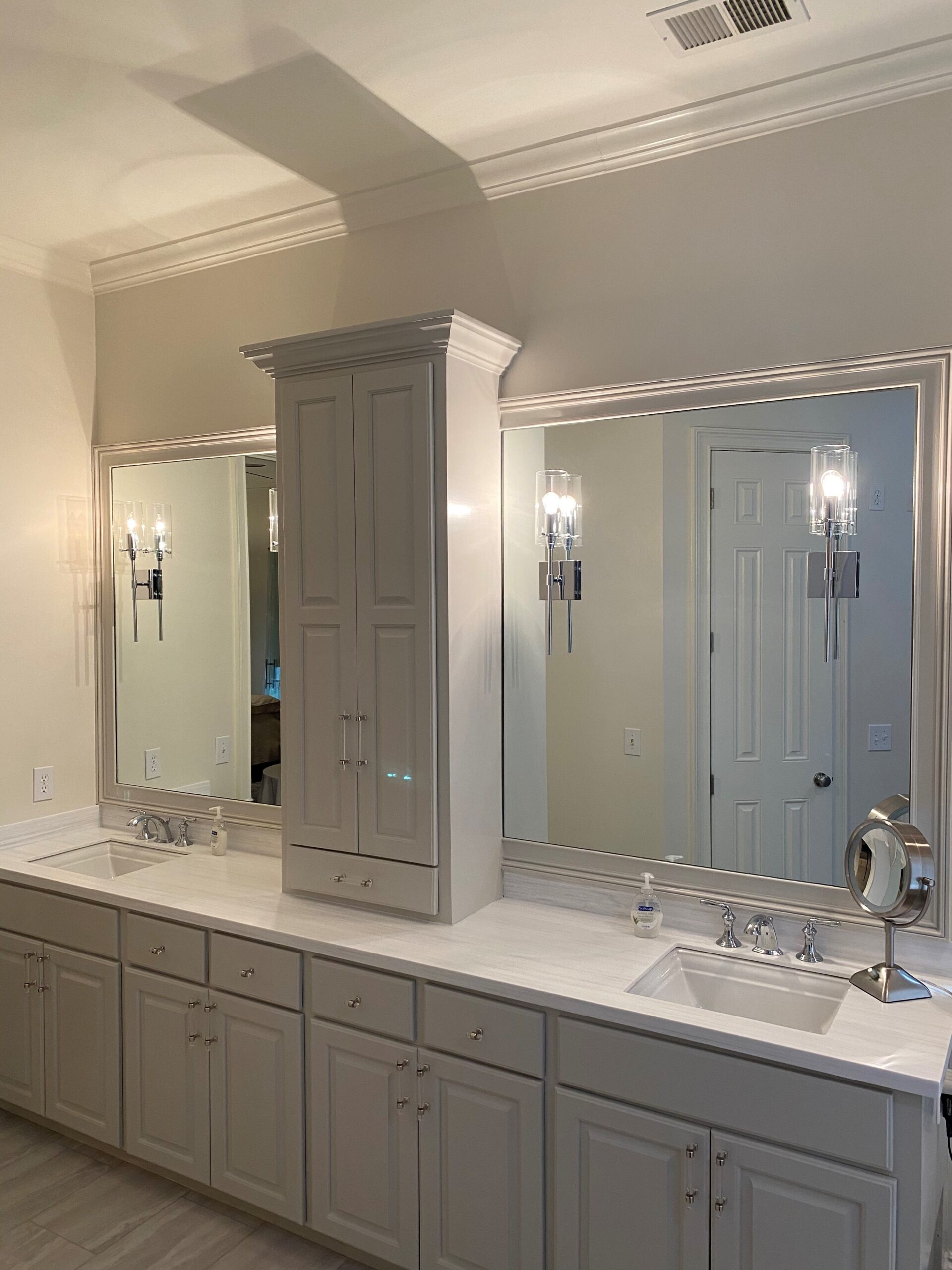 Convenience and Quality
Get the wall mirrors that work for your space
Whether you're checking your reflection or taking a closer look at your surroundings, a mirror can serve a number of purposes. When placed on the walls, mirrors can enhance the feel of the space while also making a room look larger. However, finding the right wall mirrors for your space can be a challenge, and even when you find the perfect one, getting it home can be even more difficult. If you're in or near Columbia, South Carolina, you can count on our team at Inabinet Glass & Mirror Co Inc. to help you find the perfect wall mirrors for any room in your home or area of your business. We work with both commercial and residential clients in the Columbia area to deliver high-quality glass services, including all types of mirrors. Our technicians can help you get mirrors to complement your bedroom and bathrooms, as well as styles designed for commercial use.
Whether you're looking for unique shapes or styling for your new mirror or you'd like help finding a mirror that fits perfectly on a particular wall in your structure, you can count on our experienced and helpful technicians. We work diligently to fulfill your needs and exceed your expectations.
Something that sets us apart from other local glass providers is our ability to provide quality custom glass pieces. We make it easy to get the wall mirrors you want. Our company has been serving local clients and managing their glass needs for more than five decades.
Designed Specifically For You
When No Mass-Produced Product Will Do
Custom mirrors are the solution for a unique situation or the need for a stronger, more reliable product.
In this day when so much is mass-produced and made to create the highest profit rather than be the highest quality, it can be challenging to find a mirror that meets your needs. If you would prefer a mirror that is unique and ideal for your space, the best option is to look into custom mirrors. At Inabinet Glass & Mirror Co Inc., we can create any size, shape, or style of mirror that you envision, including beveled mirrors, bathroom mirrors, and wall mirrors.
Another situation where you might need custom mirrors is for getting the exact size you need for adding an embellishment to a cabinet, bookcase, closet door, table or dresser top, or something else. It takes the right equipment and training to cut mirror glass without damaging it. If you already have a sheet of mirror that you need cut, don't hesitate to bring it to our downtown Columbia, South Carolina location, and we'll take care of that for you.
You can count on us for quality glass being used for our custom mirrors so that they are not as fragile or weak as those you might find elsewhere. We take into account how the mirror will be used so that we provide you with the best product for your situation.
Whether you are looking for a small, decorative mirror or a large one for a dressing room at your store, you can rest assured that our 50+ years of experience will provide you with the right custom mirrors. Call or stop by today!
An Elegant Addition
Straight to you, for your home or business
If you're looking for a way to enhance the look and feel of your living space, you may want to consider the addition of a mirror. Mirrors play a major role in the overall atmosphere of a room, as they can help to make it appear larger while also reflecting the beautiful décor elements back into the space. You can add even more appeal with a unique and visually appealing mirror that has some interest, such as a beveled mirror that has sloping edges rather than traditional squared-off corners. Beveled mirrors are sleek and timeless, adding appeal to spaces of all styles.
Our team at Inabinet Glass & Mirror Co Inc. can help you get the beveled mirrors you want for your space. We have access to high-quality glass pieces, including elegant and stylish beveled mirrors. Our technicians can talk to you about the options available and help you select the mirrors that will complement your style and enhance the atmosphere. From there, we can then install the mirrors on your walls, ensuring they're securely affixed.
The glass services we provide are second to none in the Columbia area. We take the time to tackle every job correctly, whether we're installing a new beveled mirror or replacing a section of broken glass. Our company has been in business for more than five decades, and we're a fourth-generation family-owned organization. Whether you're looking for a beautiful mirror to serve as a statement piece in your home or new glass components for your business, you can count on us to provide the services and products you need.
Designed Specifically For You
When No Mass-Produced Product Will Do
When you walk into a bathroom, one of the first things you'll typically spot is your reflection in the mirrors mounted on the walls. Bathroom mirrors are used in both residential and commercial settings, and they play a significant role in the overall atmosphere of the room. When mirrors are used correctly, they can make the room feel larger while also serving an important functional purpose: showing a reflection. If you're looking for high-quality bathroom mirrors to add to your Columbia, South Carolina home or business, contact us at Inabinet Glass & Mirror Co Inc.
We specialize in all types of glass and mirror services, including beautiful bathroom mirrors. By turning to us for your mirror needs, you can eliminate the hassle that comes with trying to get mirrors on your own. Even small mirrors are difficult to transport when you don't have the right equipment, and larger mirrors often require the use of a truck to move. We have the equipment needed to safely move mirrors of all sizes, and we can bring the mirrors you choose to your home or business. Our technicians can also install the mirrors on your walls, helping to enhance the atmosphere of your space.
In addition to bathroom mirrors, we offer a range of other services that can help you improve the look and feel of your residential or commercial structure. We can replace windows, upgrade your glass shower doors, install a tub surround, or take care of many other glass-related needs. Contact us to learn more about what we provide to local clients.
At Inabinet Glass & Mirror Co Inc., we have been providing commercial and residential glass services from the same downtown Columbia, South Carolina location since 1967.
Shower Doors
Glass Doors
Glass Tabletops
Mirrors
Storefronts
Glass Display Cases
Glass Cutting
Hurricane & Storm Windows
Window Repair
And More
We'd Love to Hear From You
Send us a message
Location
Inabinet Glass & Mirror Co Inc.
2200 Main St, Columbia, SC 29201
Service Areas
Lexington, Columbia, Irmo, Cayce, Blythewood, Chapin, Newberry and surrounding areas in South Carolina
Hours
Monday-Friday 8:30-5:00