Residential
Glass Shower Doors
Residential glass installation and replacement
Best-in-Glass
Ranked Columbia, SC's Top Glass Company 
We offer a wide range of glass services and over 50 years of expertise. We understand the importance of proper installation and replacement of glass shower doors.
When you take a shower to start your day, the last thing you want to worry about is the water spraying out and damaging the surrounding floors and materials in the bathroom. A poorly installed shower door can allow water to escape the enclosure, while a damaged door can create a safety risk. We use the best in glass materials from  Oldcastle and HMI Cardinal. So whether you are in need of a new shower door, or desire to replace yours for visual appeal, you can rely on our team at Inabinet Glass & Mirror Co Inc. to get you the quality, beautiful pieces you want.
Consultation and Planning
Before we begin the installation process, we'll consult with you at your property to take a closer look at the space and come up with a plan. We can design and install custom glass shower doors that will add visual appeal and style to the room. Your doors can also protect the rest of the space from the risk of water spray.
In addition to glass shower doors, we offer glass cutting, window installation and replacement, tub enclosure installation, and many other services.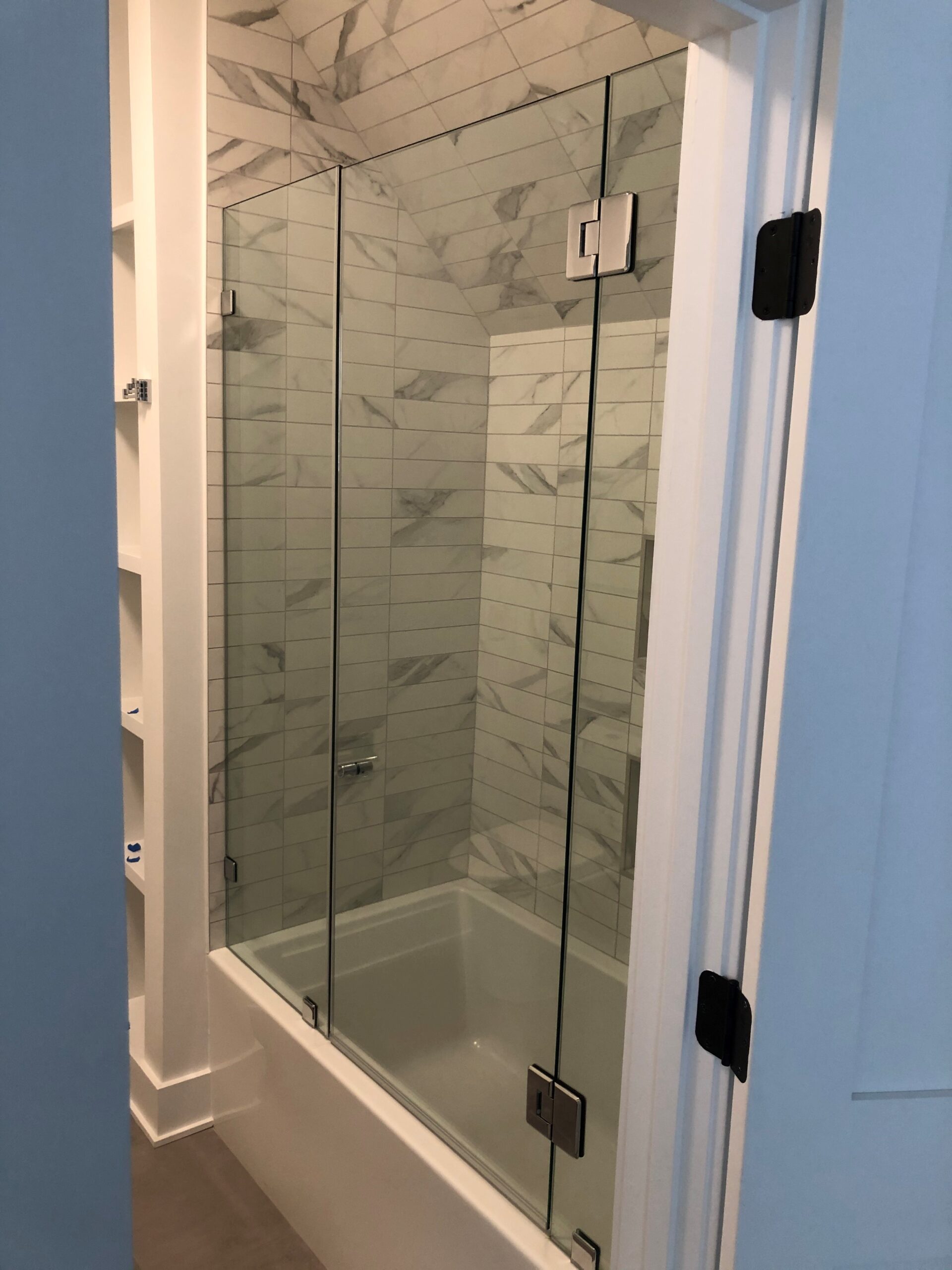 Showers That Empower
High-Quality, Modern, Customizable Shower Doors
Our family-owned company is on its 4th generation of providing glass services from the same downtown Columbia, South Carolina location for more than 50 years. We owe our longevity to our commitment to being the best in customer service and quality glass products. We take the time to understand what you need, answer your questions, provide solutions to any issues you have, and plan out the project from start to completion. Not only can we provide the custom shower doors you envision for your bathroom, but we also perform the installation with care and attention to detail.
Perhaps you are planning a bathroom renovation with a shower door opening that isn't a standard size so a pre-fab one won't work, or you are looking to update the look of your shower with a frameless shower door. Whatever the reason might be, your best choice to have it made for you is Inabinet Glass & Mirror Co Inc., because we are the leading provider of residential glass services in the area.
Your Shower, Your Way!
Contact us for more information.
Shower Seamlessly
High-Quality. Modern Customizable Shower Doors
 First of all, while you may love a beautiful, oasis-like walk-in shower, cleaning it isn't nearly as much fun. But, with a frameless shower door, that chore is simplified, as you don't have a frame to clean around or a gasket getting in the way.
Another benefit of a frameless shower door is you have an unrestricted view of the beautiful tile work you just had installed, not to mention the high-end fixtures and other features. In addition, your bathroom will look larger when it is wide open. Since this style of bathroom is very popular now, it is a great idea to have a frameless shower door if one of your goals is to raise the value of your home as much as possible.
If you would like to learn about the custom result we can deliver for the frameless shower door that you have in mind, don't hesitate to reach out to us.
FAQ About Frameless Shower Doors
At Inabinet Glass & Mirror Co Inc. in Columbia, South Carolina, we get more questions about a frameless shower door than traditional ones because they aren't something that has been around as long. We welcome questions because we want you to have all the facts in hand so you can make an informed decision. Here are a few of the most common questions we have been asked, but if you have others, don't hesitate to contact us:
How can a frameless shower door possibly be as strong as a framed one?
First of all, the frame on a standard shower door is more cosmetic than it is structural, so it really isn't as necessary as you might imagine. The second thing to know is that a frameless shower door is made differently to compensate. It doesn't have the flexible nature of a standard shower door because it is generally thicker.
Is a frameless shower door watertight?
A direct spray of water can get through where the door aligns with the frame, but that can also be true with a traditional shower door. All shower doors deflect water but are not 100% watertight. With our careful measuring and fabrication process, as well as meticulous installation, we can minimize water leakage.
Do you use tempered glass?
Yes, it is required by law that both traditional and frameless shower doors be made from tempered glass. The reason for this is so that if something does break the door, it will shatter into small pieces instead of large, dangerous shards of glass.
Why Tub Enclosures?
Add a Layer of Protection
Soaking in a warm bath is an appealing way to end a long, tiring day. You may also use your bathtub to bathe children or pets. No matter how you use your tub, it's helpful to add a layer of protection that keeps the water where it belongs. Tub enclosures have become more popular in homes across the nation, and for good reason.
 An enclosure surrounds the tub and creates a contained area for bathing, helping to reduce the risk of water damage that can come from splashing or moving around in the tub. Tub enclosures can also improve the look of a bathroom, especially when they're made of beautiful and high-quality glass.
INSTALLING TUB ENCLOSURES
At Inabinet Glass & Mirror Co Inc., we install all types of glass components in homes throughout the Columbia, South Carolina area. One of our areas of focus is the installation of tub enclosures for our clients. When installing tub enclosures, we use high-quality glass and cut it to fit the available space perfectly. A custom-made enclosure can add value and visual appeal to your home, making it a worthwhile investment.
With more than five decades of experience in the glass industry, we're the company you can count on for all your glass needs. If you have questions or would like to request an estimate for a tub enclosure at your home, give us a call today.
At Inabinet Glass & Mirror Co Inc., we have been providing commercial and residential glass services from the same downtown Columbia, South Carolina location since 1967.
Shower Doors
Glass Doors
Glass Tabletops
Mirrors
Storefronts
Glass Display Cases
Glass Cutting
Hurricane & Storm Windows
Window Repair
And More
We'd Love to Hear From You
Send us a message
Location
Inabinet Glass & Mirror Co Inc.
2200 Main St, Columbia, SC 29201
Service Areas
Lexington, Columbia, Irmo, Cayce, Blythewood, Chapin, Newberry and surrounding areas in South Carolina
Hours
Monday-Friday 8:30-5:00